Customized Divine Calligraphy 11X29 On a hanging natural wooden scroll, with rice paper and choice of white, yellow, red or blue silk brocade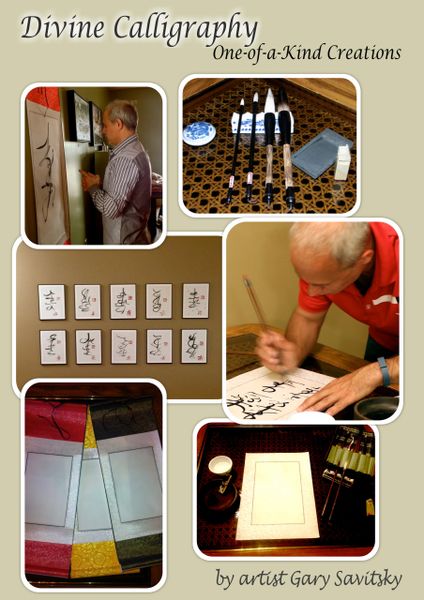 Customized Divine Calligraphy 11X29 On a hanging natural wooden scroll, with rice paper and choice of white, yellow, red or blue silk brocade
** Please note this Divine Calligraphy, called Divine Space as shown above ... is a sample only, as with Customized Creations yours will be designed and created with your unique vision in mind. The Scrolls and Silk Brocade are samples of what you can choose from.**

Divine Calligraphy is both a unique art form that decorates home and office with a majestic flare, and a spiritual process that ignites an awakening of the Divine.


Artist and Messenger Gary Savitsky, flows these one-of-a-kind creations from a Thin Place, a meditative space where the veil between our physical realm and the spiritual world of limitless possibility, is thinned.

You can purchase these Divine Calligraphy artworks in varying sizes from Gary's original set of 29, as featured in his book Divine Messages, or you can embark on a remarkable journey with Gary to discover your own dynamic and life-giving message and have him create a unique one-of-a-kind Divine Calligraphy just for you, a loved one, team or business.
Attention to traditional technique and materials and, an openness to inspired artistic evolution and expression are what make these Divine Calligraphies come to life. Gary uses Asian calligraphy ink sticks and stones to produce the ink. Each piece is done on the highest quality Chinese rice paper, imported from China. Srolls are a combination of the rice paper and colored silk brocades, in white, yellow, red or blue, hung on a beautiful natural wood scroll.
Specifics are as follows:

Smaller 5X7 pieces are on rice paper for you to frame

8X10 and 12X16 are on rice paper with coloured silk brocades in either white, yellow, red or blue
11X29, 20X54 and 27X68 are rice paper and colored silk brocades, in white, yellow, red and blue, hung on a beautiful natural wood scroll